Kos island is a destination that should not escape the savvy traveller's attention, as it offers an unmatched setting for a romantic escape beyond the ordinary. Discover the birthplace of Hippocrates, the ancient Greek father of medicine that is just about the prettiest combination of sea, sun and curiosity for the true meaning of the good life. Kos for couples and honeymooners presents an ideal opportunity to live out the ultimate Greek fantasy, to do it in style and with a distinct focus on wellness inspired by past wisdom.
To that end, KOIA in Kos 5-star hotel for adults only is primed to fulfill your desires, while Kos will further beguile and seduce you with its rich history and alluring present. Kos for couples is an intriguing prospect that is full of adventures, surprises, laid-back relaxation and a veritable amount of ways to amplify your wellness levels.
Romantic ideas & experiences in Kos for couples:
1. Explore The Island's Past
The outdoors of the island also provide an explorational journey into the past. Those who love history and culture woven into their romantic escape in Kos for couples should consider checking the following landmarks. The most poignant one is the plane tree of Hippocrates, located in the square of the town. Historical accounts describe that it was under this ancient tree that the philosopher spread his teachings about harmonious living and wellness.
Naturally, the ancient Asclepion and its past glory as a once legendary center for medicine, athletics and wellbeing is also something you should not miss. As is the Roman Odeon, the altar of Dionysus and the ancient Agora. At the beach of Agios Stefanos, you'll find the remains of a 5th-century BC paleo-Christian church right on one side of the beach. Couples who want to share an even more extraordinary experience can even swim across to the islet of Kastri and marvel at the views of the medieval fortress standing sentinel.
Finally, one of the most romantic things to do in Kos for couples that accentuates the sheer beauty of its landscapes is sunset horse riding along the beach. It is an experience that is sure to remain etched in your mind for years to come.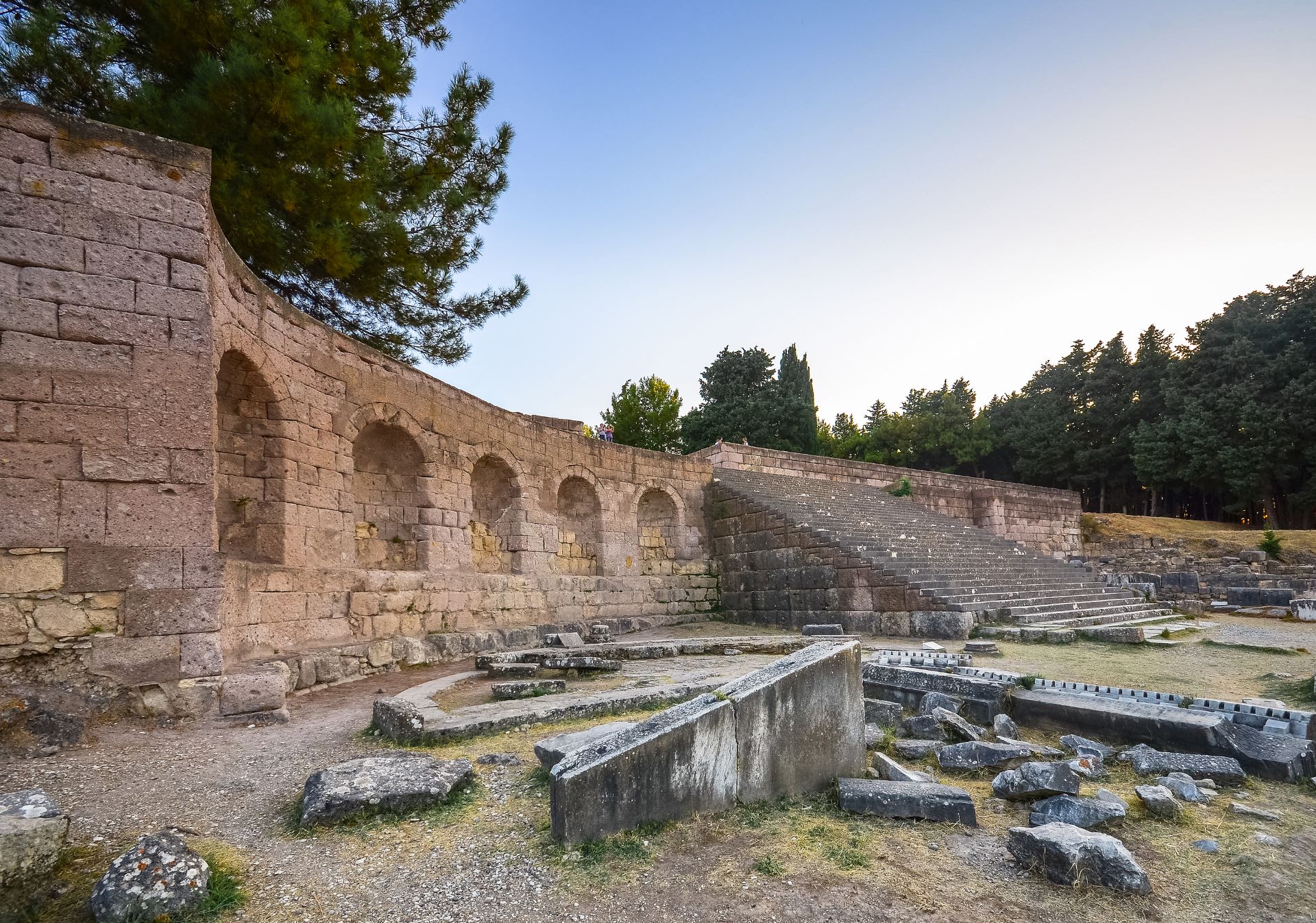 2. Indulge In Elevated Dining
For romance that comes effortlessly, KOIA Resort offers some of the most indulgent things to do in Kos for couples.
A floating breakfast of nutritional delights is a sensational way to start your day together. The service includes a plentiful floating tray that guests can indulge in while inside their suite's private swimming pool. You can choose freely from whichever breakfast style you wish, and the rest will be taken care of, and delivered at your desired time.
As for the evenings, opt for romantic outdoor fireplace sea-view dinners while guests can choose from several locations inside the garden area and enjoy a romantic candle-lit dinner under the stars, reveling in the magic of the scene set before them.
Of course, if you're in the throes of a whirlwind romance, intimate dining is an option that may seem most preferable. In so doing, guests unlock the in-room gastro experience which lets you indulge in the most delectable and absolutely private gastronomic experience on the island.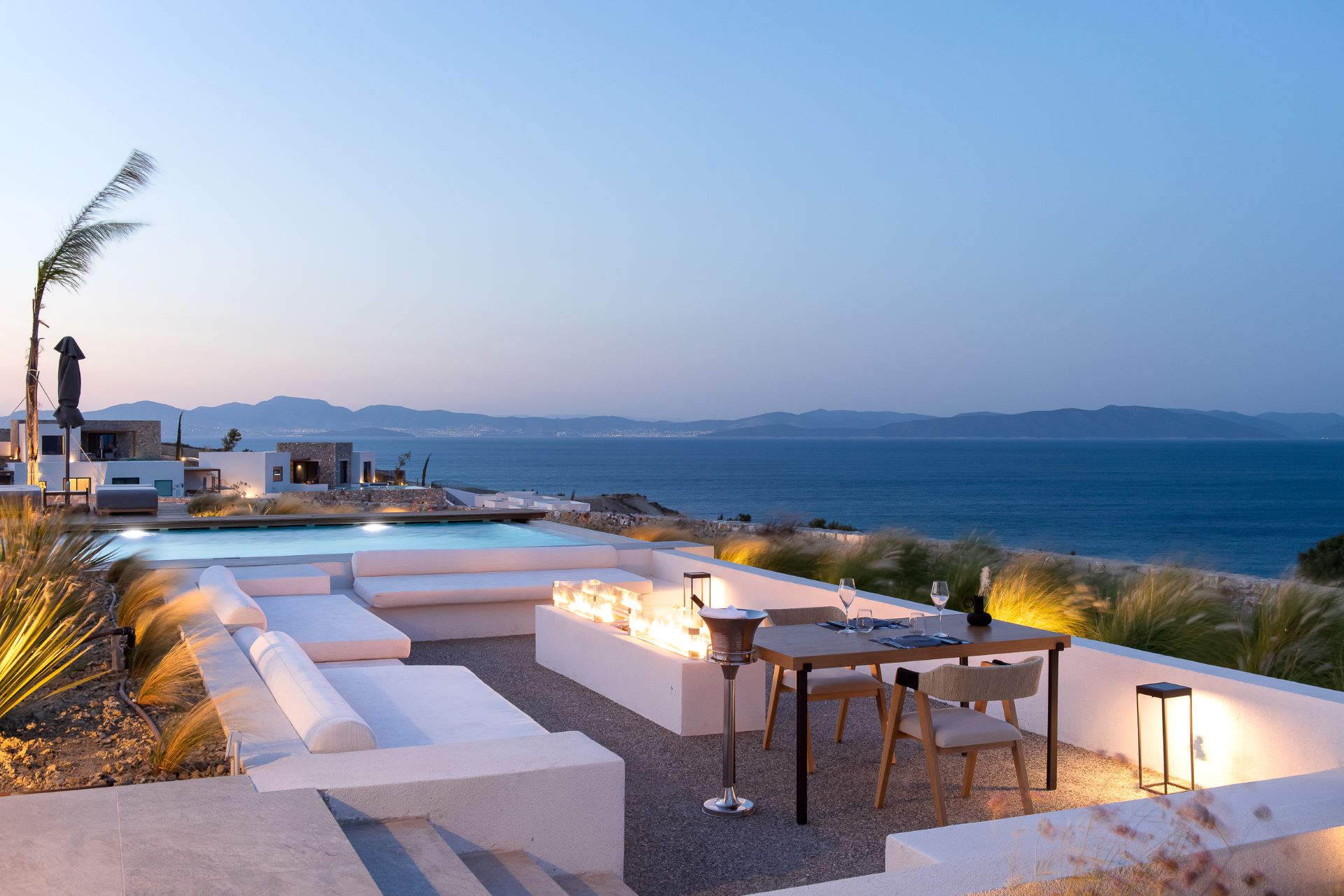 3. Taste Local Products Together
Delve into the depths of local flavour through the lens of tradition and culture by tasting the finest of the island's produce together.
KOIA Resort boasts a bespoke wine-tasting experience in Kos for couples called the Sacred Wine Symposium, which operates once a week. It offers a concise tutelage on Coan (of Kos island) wines that allow couples to immerse themselves in the traditions of ancient wine-making while fine-tuning their palates to the wine culture of the island.
Similarly, there is a weekly olive oil seminar where guests can learn how to identify the scents and flavour subtleties of Greece's liquid gold to distinguish its differences in quality.
Our garden is also the perfect setting for romantic saunters hand in hand, traversing through pathways strewn with fragrant herbs and plants, the scent of rosemary and lavender caught in the air. For a walkthrough with a fun and educational aspect to it, combine it with the Interactive Botanic Lab and learn a little bit about ancient botany and its diverse capacity.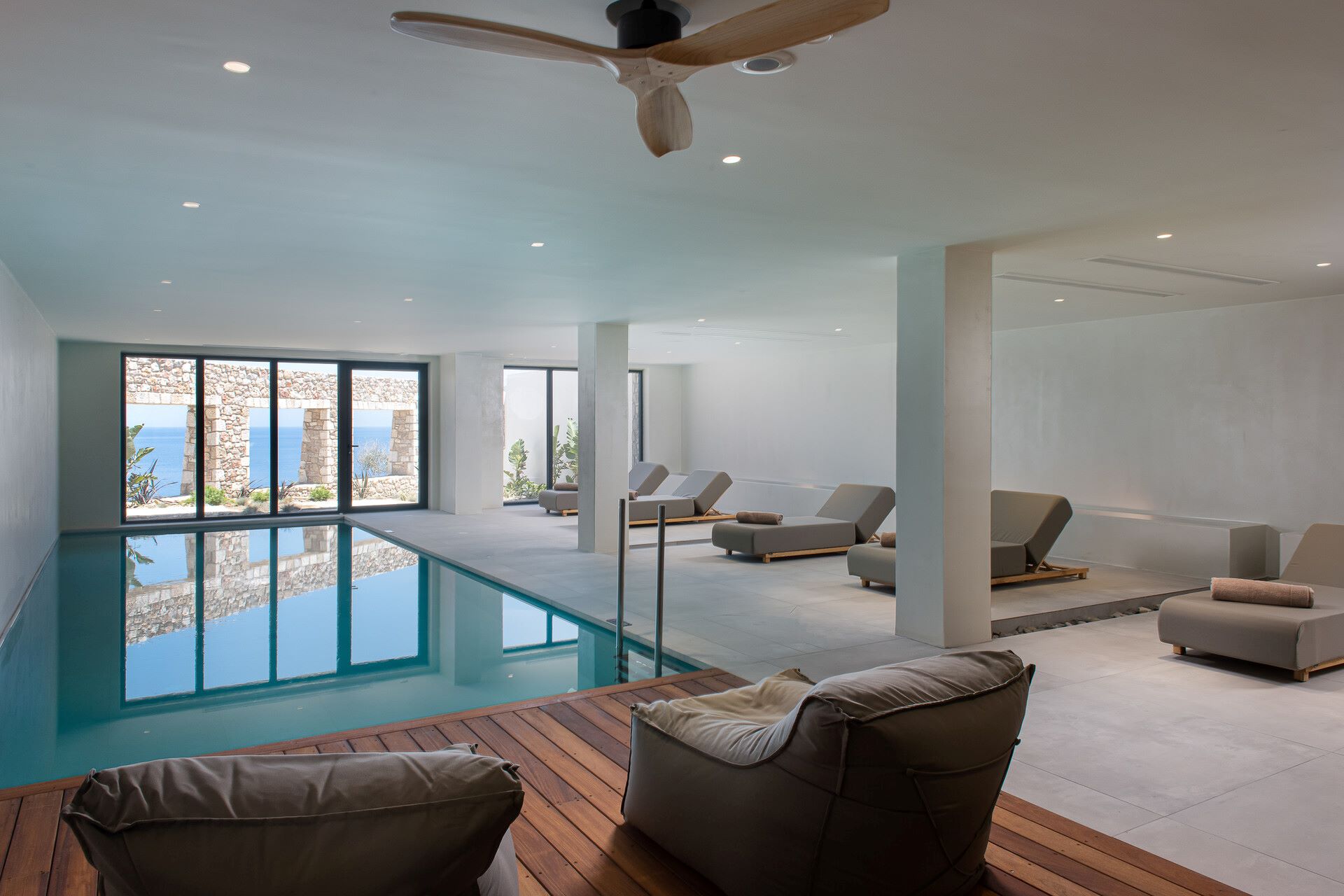 4. Recharge with Couples spa-time
By the basic tenets of Hippocratic theory, inner harmony comes from the balance of mind, body, and spirit. As such, the spa programs and treatments at our wellness resort in Kos go above and beyond. The Ydor Wellness area provides a range of facilities such as a heated pool, sauna, steam bath, and Himalayan bath salts that pair wonderfully with the all-natural recipe treatments available.
The Ydor Spa menu includes a wide selection of signature treatments, such as the wild rose anti-aging face treatment and the marjoram deep tissue massage among others, as well as a couple's day massage. This consists of a hammam session with detoxifying masks on your face, hair and body, followed by a coral body scrub and moisturizing honey body mask, all of which are paired with a glass of wine. Note that treatments exclusively for men are available, too.
Additionally, yoga and pilates are available in Kos for couples or individually, as you may either want to keep up with your routine or try something new together.
5. Elegant Wedding Receptions & Vow Renewals
In a place of such effortless harmony and natural beauty, every occasion that has romance at its core is amplified to stellar levels. Such is the case with the idyllic scenery that KOIA Resort creates for your wedding reception or vow renewal ceremony. Choosing our Kos wedding venues for celebrating your special day, is the first step into creating an unforgettable start to your joint life. Similarly, choosing to renew your vows in a destination that reverberates ancient healing wisdom is bound to reignite and reforge the bonds you share between you.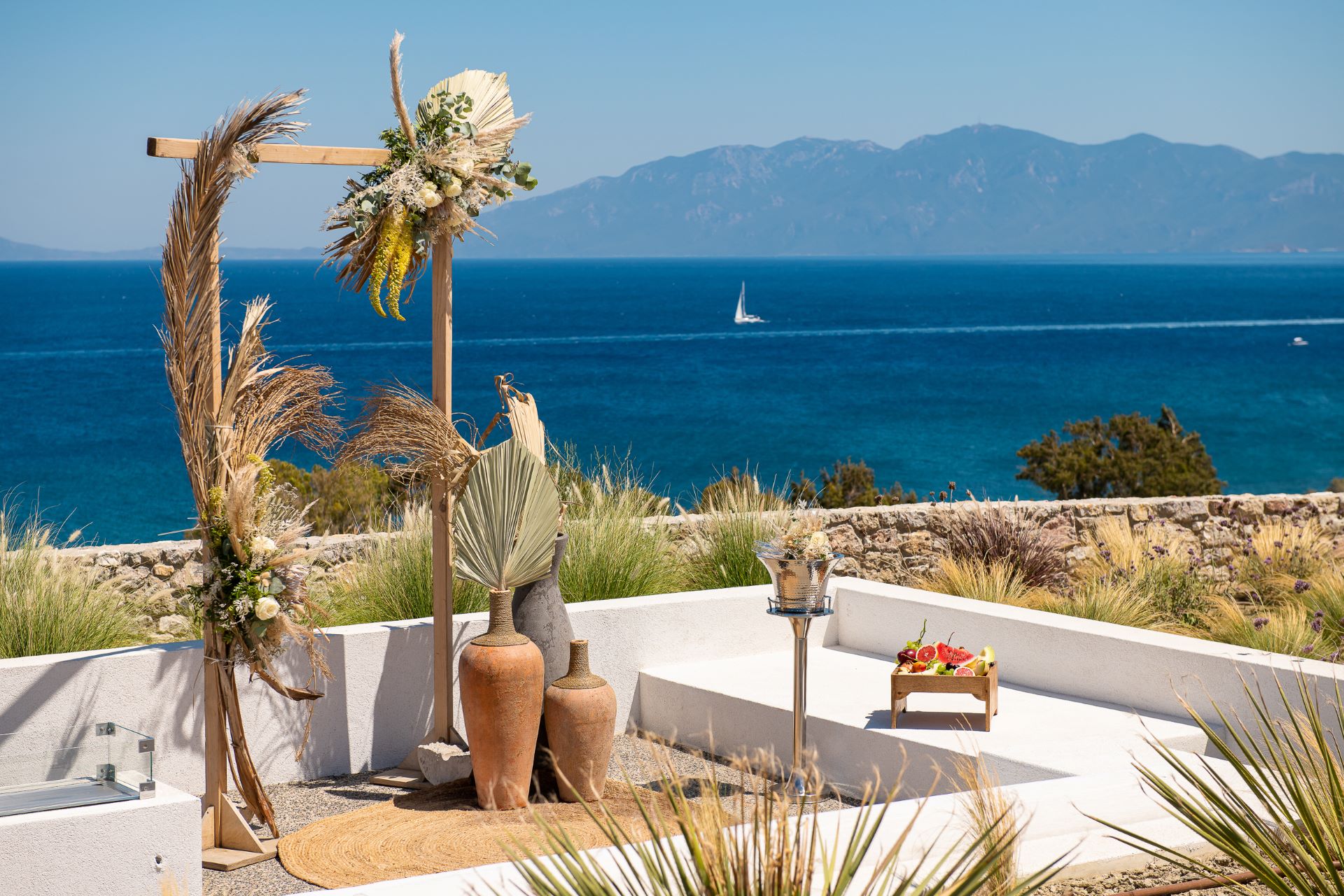 At KOIA All-Suite Wellbeing Resort, a romantic escape in Kos for couples promises soul-stirring experiences, inspired by the great Medicinal philosopher Hippocrates. Here we have harnessed all the most important aspects of his teachings and combine them with modern practices to deliver a holiday unlike any other. From elevated dining and pampering in sensational settings to educational seminars that offer peeks into the island's treasures and explorations within nature, the combination of Kos and KOIA Resort is a couple's romantic escape come true.