If you seek a sense of fulfillment and yearn for an ancestral wellness-oriented approach on your next holidays in Kos, then KOIA Resort is the place for you. Drawing inspiration from the well-being wisdom of our ancestors, here is an exquisite hotel that has adapted the eonic Hippocratic philosophy of healing into harmonious holidaying that traces wellness back to its ancient Greek roots. Born in Kos island, Hippocrates based most of his medicinal findings on the various gifts that came from the natural wealth of the land. KOIA adopts these natural remedy principles and aptly applies them to a modern hospitality concept that will disarm you.
KOIA All-Suite Wellbeing Resort is a 5* luxury adults-only hotel that embraces wellness at every touchpoint, within a sophisticated setting that replicates the iconic architecture of the Doric Hexapolis. Sprawling down to a sensational beach in the area of Agios Fokas, your holidays in Kos at KOIA are sure to remain etched in your mind for years to come. What to expect? Harmony and mindful indulgence, serenity and soul-rich respite. Here is how KOIA promises holidays in Kos island like never before.
Harmonious Living – Accommodation
KOIA Resort provides guests a window into the past, having recreated the style of a historical settlement, figuratively transposing you to another period, lost in time. Within this unique landscaping that seamlessly blends into the surroundings, KOIA offers three distinct stay experiences, between Suites, Cave Suites, and its Kos luxury Villa with private Infinity Pool. Expect sophisticated layouts that follow gentle lines and the principles of minimal design. Earthy tones that honor natural materials such as stone and wood feature in all rooms at KOIA.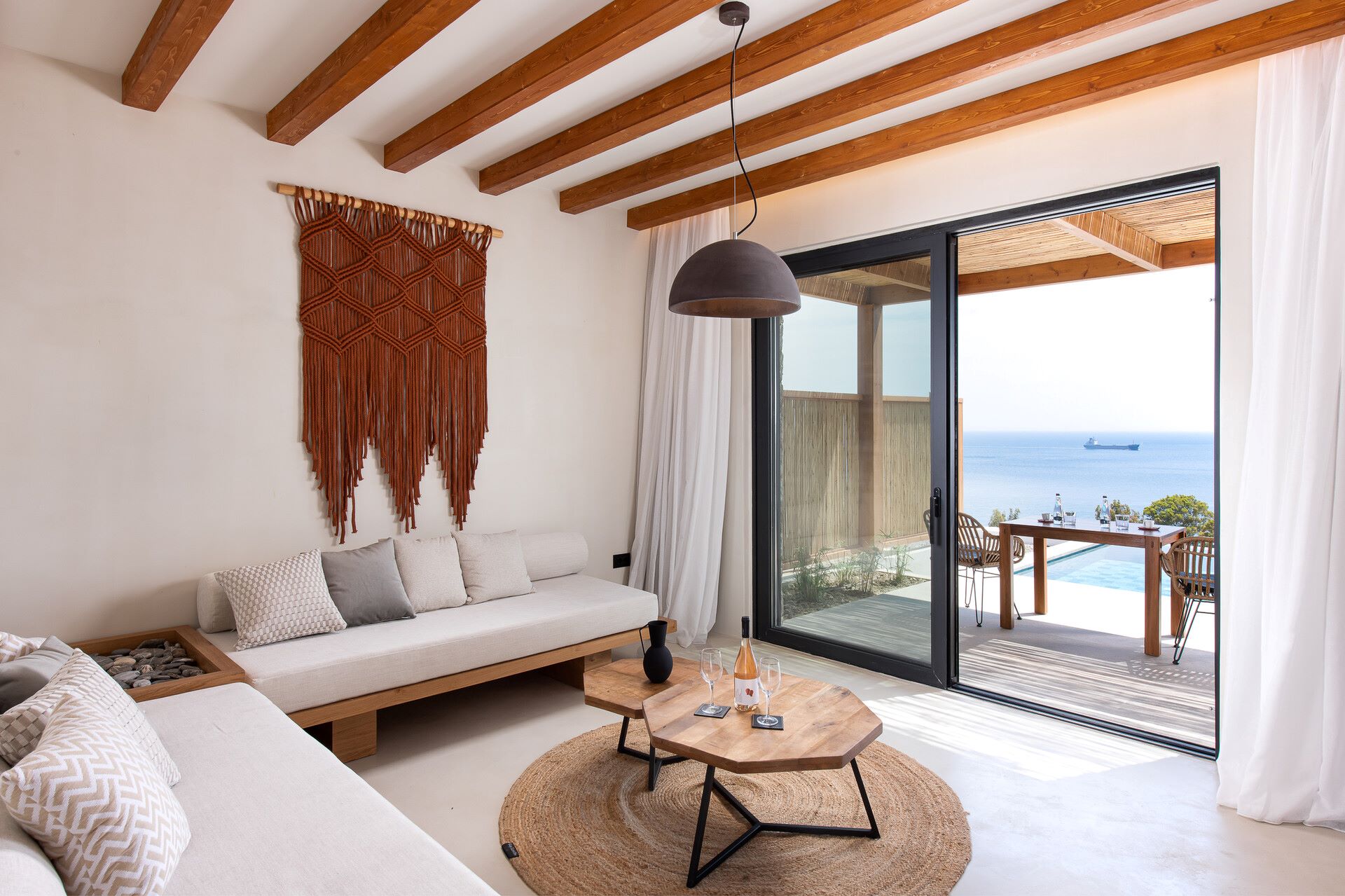 All also have spacious furnished outdoor areas that can be used as private settings for indulgent in-room gastro-experiences, as well as being equipped with upgraded minibars for ultimate convenience. Whichever one of the Kos luxury accommodation with sea views you end up choosing, know that these spaces are more than just places to sleep – they are places to live.
Harmonious Being – Wellness 
Our wellness resort in Kos island brings you a spa experience like no other. The wellness facilities at KOIA Resort usher you into a state of euphoric relaxation from the very first moment you enter. Ydor Wellness Area welcomes you to a tranquil space where water is the prevailing element, featuring a heated, indoor swimming pool with wonderful sea views. In this safe space, you can surrender to the restorative powers of KOIA's signature treatments based on Hippocratic philosophy that use herbs and blossoms identified since antiquity for their healing and beautifying properties.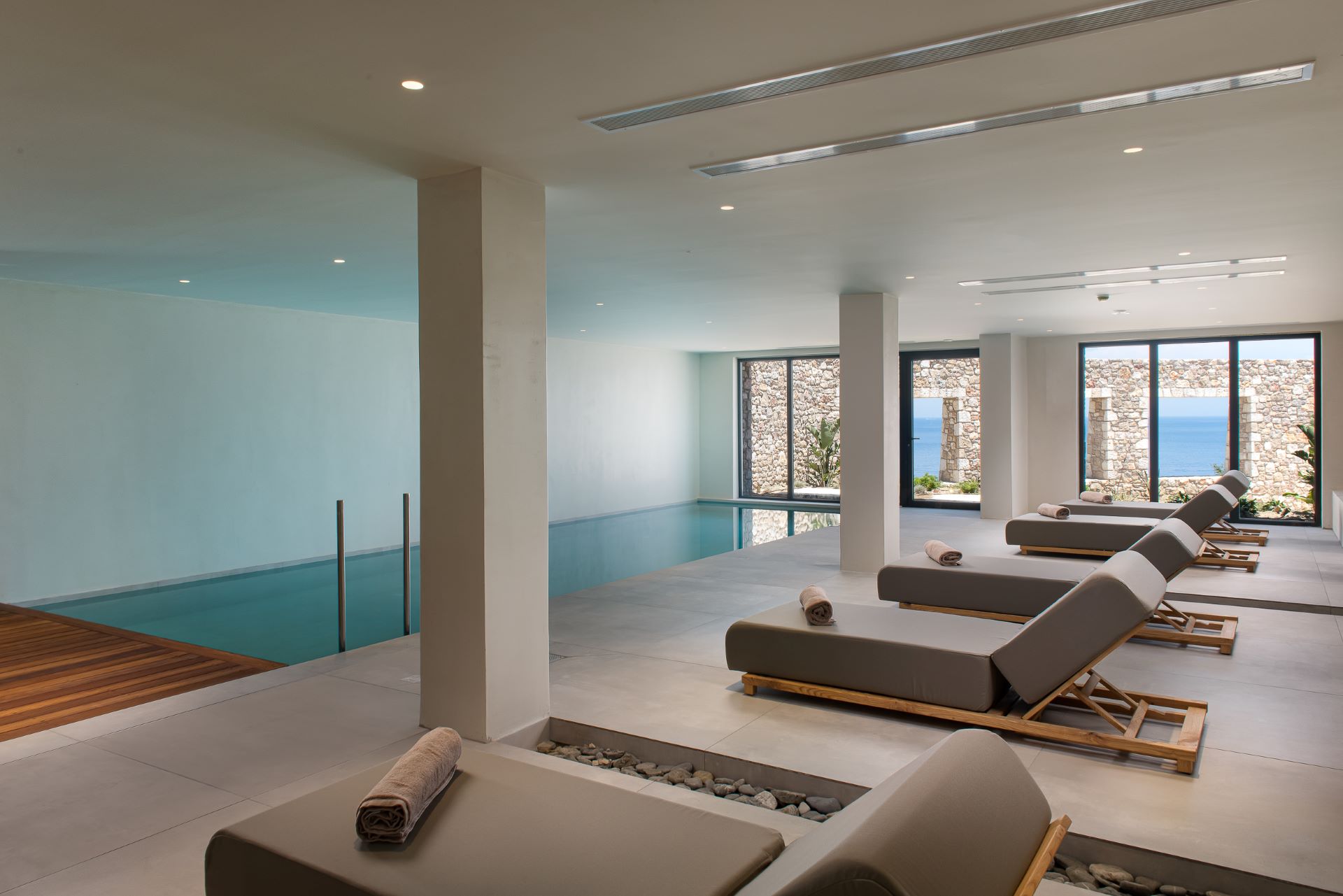 All therapies use unique, all-natural recipes that aim at reinstating your skin's suppleness and glow, relieving tension, stress and toxins, to nourish the body as we calm the mind. Among others, we have a series of Mini Rituals that are typically 45 minutes long or the Holistic Rituals that are for those who like to deep dive into wellness for over an hour. The wellness facilities at KOIA Resort also feature a steam bath and gym area, while treatment spaces include a private spa suite for 2 to 6 persons with a separate sauna, and a soothing Himalayan salt wall that works wonders on the respiratory system.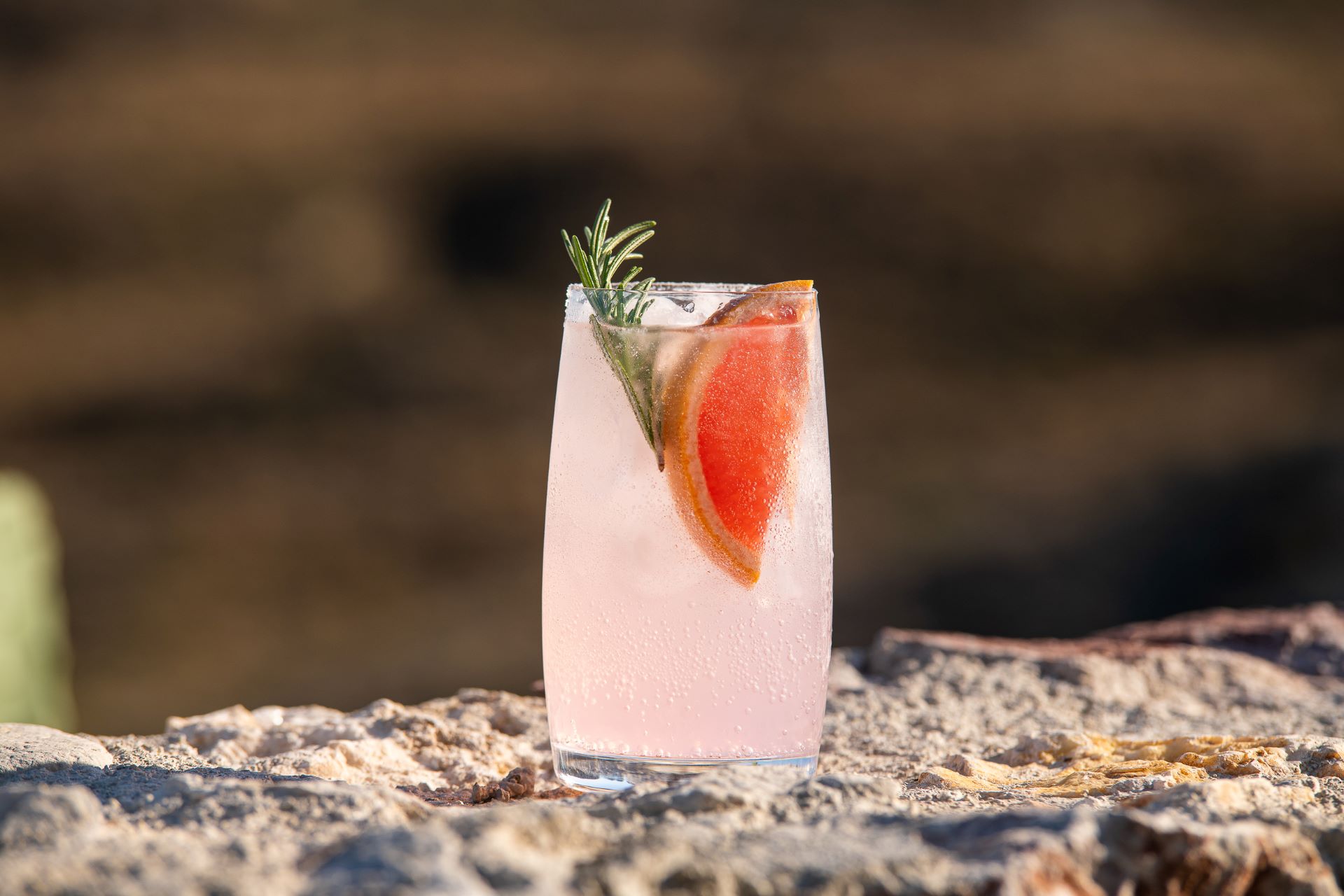 Harmonious Dining – Gastronomy 
Indulge in an elevated sense of dining, inspired by local Kos and emblematic Greek recipes that incorporate a nutritional range of Hippocratic herbs and plants. KOIA Resort features some of the best restaurants near Kos town, with tantalizing menus curated by Michelin-star awarded chef, Giannis Parikos. Whether you are having Breakfast, Lunch, or Dinner, you are invited to embark on culinary journeys that showcase the wholesome finesse of exceptional ingredients.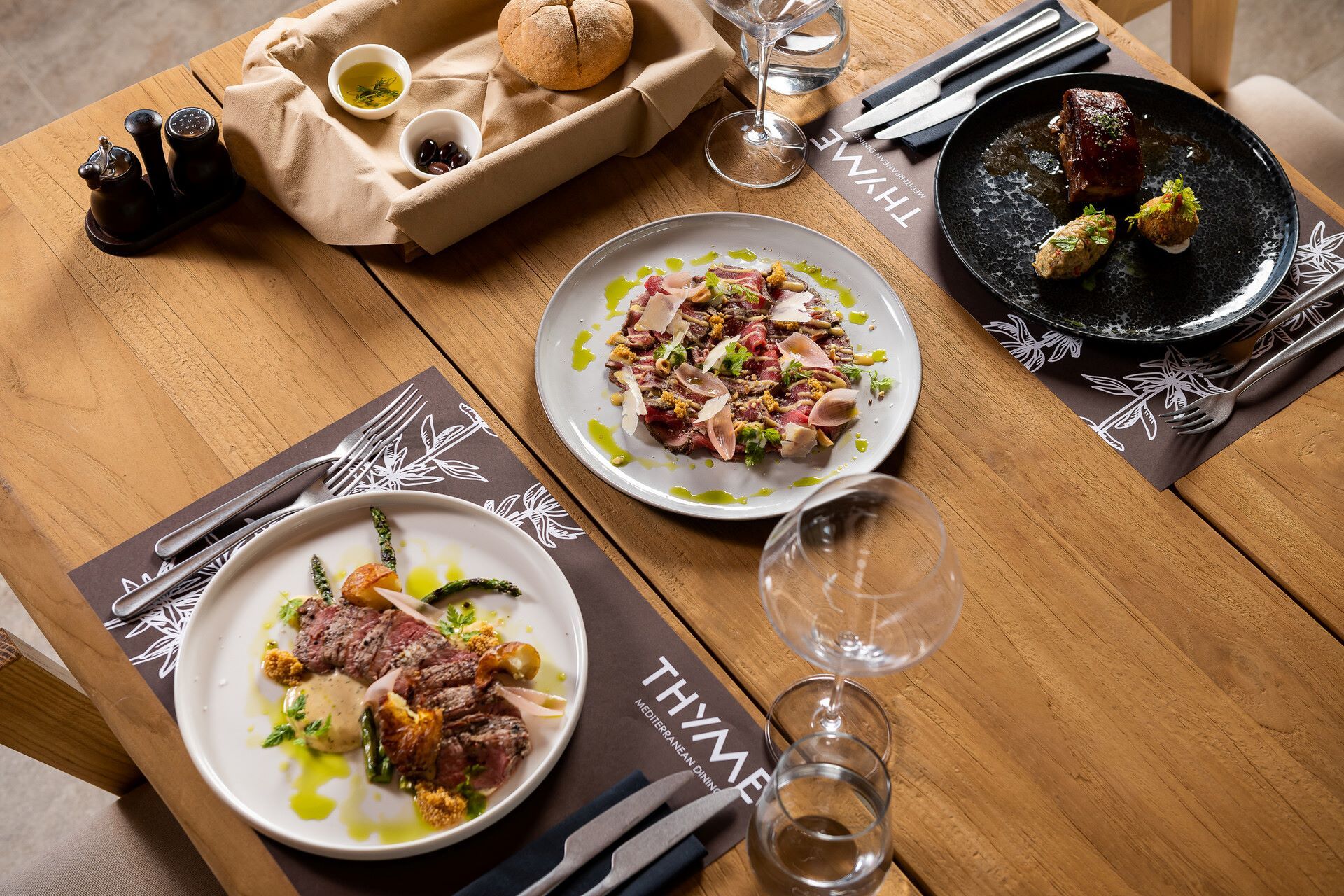 Apart from being the main dining venue, Thyme Restaurant also has a private section reserved for intimate dinners in its Botanical Garden. Reserve yours from only four tables for an exclusive fine-dining experience within a fairytale setting or book a private fireplace dinner in Kos, enjoying the sunset around an outdoor fireplace. KOIA Resort also features an all-day Pool Bar & Restaurant, as well as the unique Elixir, a concept cocktail bar in Kos serving signature herbal concoctions as well as carrying a deli section of local products.
Harmonious Holidaying – Experiences 
Your holidays in Kos at KOIA Resort are about feeling one with your surroundings, on many levels. KOIA Resort lets you experience Kos in a profound way. The beach is only 50 meters away from the property, allowing you to reach it just within a few minutes' walk from your room.  You may also engage in the Yoga & Pilates classes that run weekly, on a complimentary basis.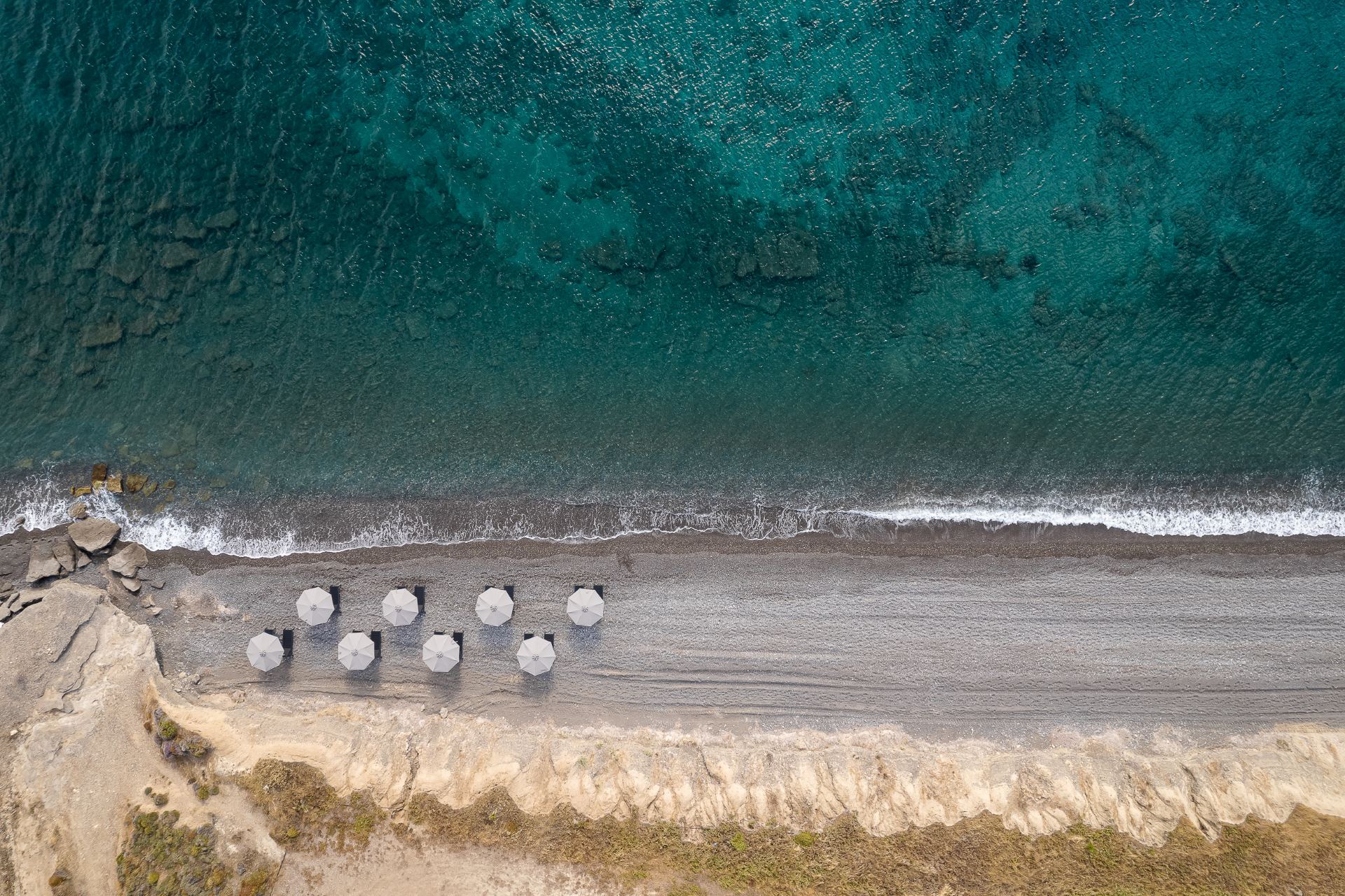 Alternatively, you can participate in adventures within nature, like trekking and hiking in Kos island but you can also join in on other things to do that give you a taste of Kos, within the hotel grounds. Like the Sacred Wine Symposium, the Odes to Honey or Olive Oil seminars we run, like the Interactive Botanical Lab & Garden walkthrough. Everything is designed to give you a deeper understanding of harmonious life and soul-rich moments that will echo in your memory.
KOIA All-Suites Wellbeing Resort is what wellness holidays in Kos are made of. Expect luxury and tranquility by default, and harmony in everything that surrounds you. Choose to experience your holidays in Kos with KOIA Resort, and prepare for a vacation that just might change your life.